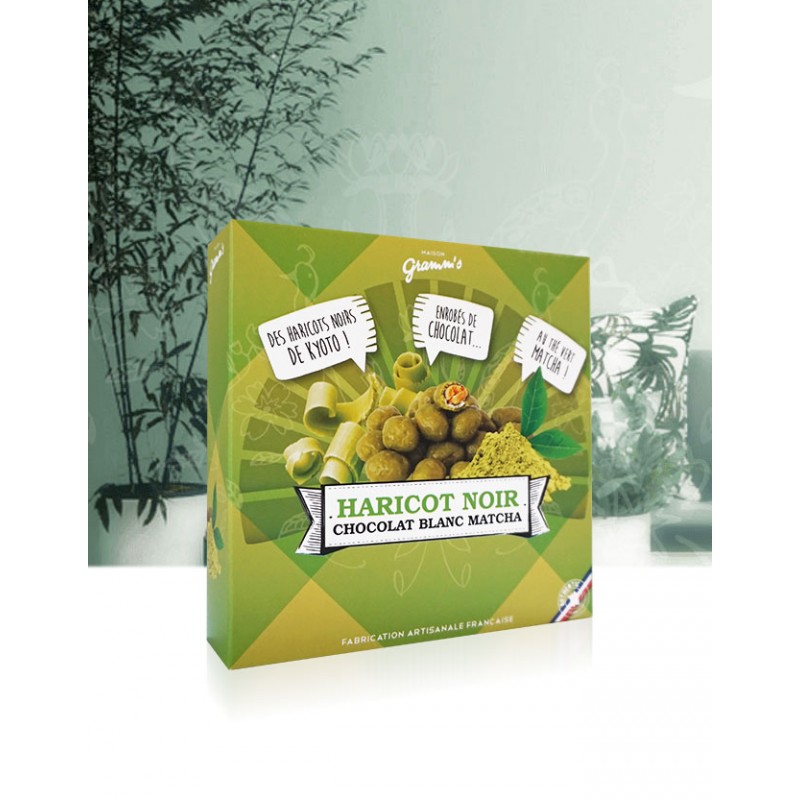  
Matcha chocolate-white bean
Black soy beans with naturally sweet flavors have many virtues recognized for millennia by the Japanese.
Roasted in Kyoto they have a crunchy texture crispy with almost biscuit notes.
To complete the trip to the Far East we have coated them with white chocolate and matcha green tea from Jugetsudo.
The bitter-free delicacy of ceremonial matcha combined with the crispness of roasted black bean will make you discover new gourmet sensations.
Box of 50G
Composition:
Roasted Kyoto black beans 50% (black soy bean sugar) White chocolate Matcha green tea 50% (sugar cocoa butter whole milk powder Matcha green tea powder emulsifier: soy lecithin natural vanilla flavor).
Average energy values ​​for 100g
2086kj / 499kcal.
Average nutritional values ​​for 100g p>
Proteins 15 1g - Carbohydrates 55 6g of which sugar 42 8g
Fat 25 2g of which saturated fatty acids 11 7g
Fibers 0 05g - Sodium 0 12g.
Allergens:
Milk soy eventual traces of nuts. egg protein and gluten.
Storage:
Store in a cool place (below 25 ° C) before opening
Cconsume quickly after opening.
Customers who bought this product also bought: