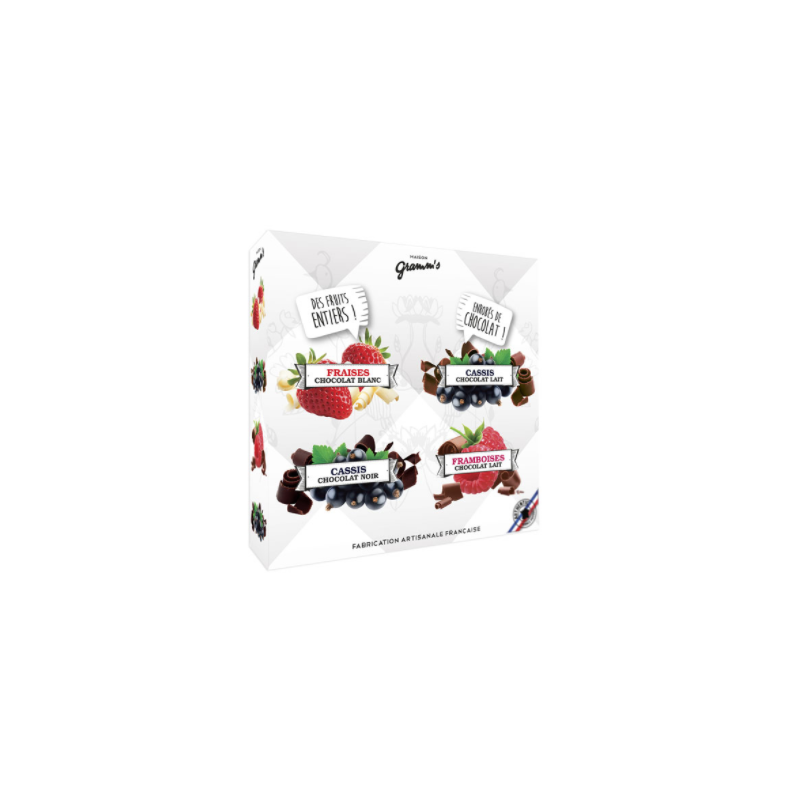  
Fruit mix with 3 chocolates
50 grams
Strawberries coated with white chocolate for smooth and delicate pleasure.
Coated raspberries of milk chocolate to gently appreciate all the tangy power of the fruit.
Blackcurrants coated with milk chocolate and dark chocolate whose sweetness makes it the perfect companion for a dessert or sparkling wine .
Composition:
75% chocolate (dark chocolate: cocoa sugar cocoa butter emulsifier: soy lecithin natural vanilla flavor - milk chocolate: cocoa butter sugar whole milk powder cocoa beans skimmed milk powder brown sugar emulsifier: soy lecithin malt orange extract natural vanilla flavor - white chocolate: sugar cocoa butter whole milk powder emulsifier: soy lecithin natural vanilla aroma) whole freeze-dried red fruits 25% (strawberries raspberries blackcurrant).
Average energy values ​​for 100g
2041kj / 490kcal
Nutritional values ​​
Proteins 6 8g - Carbohydrates 46 3g of which sugar 45 3g - Fat 29g of which saturated fatty acids 17 5g
 Fibers 7 7g - Sodium 0 05g.
Milk soy lecithin gluten eventual traces of nuts. egg protein.
Customers who bought this product also bought: